Mar 1
Galchenyuk goal vs Leafs

Savard goal vs Florida

Jokinen goal vs Predators

D'Agostini stops 41 of 42, Petes clinch playoff spot
Mar 3
Savard pregame interview

Yakupov visits young hockey players

Cammalleri goal vs Wild

Mar 4
Jonathan Hazen named AMI Graphics ECHL Plus Performer of the Month
CyclonesHockey.com
CINCINNATI, Ohio – The Cincinnati Cyclones, proud affiliate of the NHL's Florida Panthers and Nashville Predators, announced today that forward Jonathan Hazen has been named a co-winner of the AMI raphia's ECHL Plus Performer of the Month for February after finishing with a +11 rating during the month.
Hazen has 42 points (18g, 24a) and is +17 in 49 games with the Cyclones this season. He has amassed a total of 83 points (36g, 47a) in 109 career games in the Queen City and has added 17 points (3g, 14a) in 57 career American Hockey League with the San Antonio Rampage.
In recognition of their accomplishments, AMI Graphics will present Jonathan Hazen with a personalized Plus Performer of the Month Banner during an on-ice ceremony at an upcoming home game.
Lessard named CHL player of the week
Jamie Benn, Tyler Seguin will compete in Dallas Stars charity alumni game
Mike Heika
DallasNews.com
FRISCO, Texas – The Dallas Stars Alumni Association announced today the addition of Stars captain Jamie Benn and forward Tyler Seguin to the roster for the inaugural Community Chest Hockey Game on March 22, 2014 at American Airlines Center, following the Dallas Stars game against the Ottawa Senators. Benn and Seguin are scheduled to appear alongside a number of Stars legends including Mike Modano, Joe Nieuwendyk, Jere Lehtinen, Ed Belfour and Marty Turco.
"It's an honor to participate in this game and help raise money for a terrific cause," Benn said. "Having the opportunity to share the ice with Dallas Stars legends and local youth hockey players will be a unique experience for us."
Benn, who was named the sixth captain in Dallas Stars history prior to the start of the 2013-14 season, currently ranks second on the club with 55 points (23-32=55). Seguin, who is tied for 14th in the NHL with 25 goals this season, leads the team with 58 points (25-33=58).
"The addition of Jamie and Tyler to the Community Chest Game speaks to their commitment to the North Texas hockey community," Dallas Stars Alumni Association Director Bob Bassen said. "Both players immediately offered their support to the Alumni Association and felt participating in the game would be the best way to do so."
Local area youth hockey players will have the opportunity to play alongside former Dallas Stars by fundraising on behalf of the Community Chest. All youth hockey players who help raise funds for the Community Chest will be eligible to be selected to participate in the game with the Stars alumni.
"The Stars Alumni Association has done a tremendous job in planning this game," said Seguin. "We're thrilled to get the opportunity to support them with this cause and a lot of people will really benefit from what they're doing."
The game will be played in memory of local hockey player, Travis Stryker, who along with his mother and father were killed in a tragic car accident en route to a hockey tournament. The proceeds from the Community Chest Game will benefit the Stryker Family and will go toward supporting the future needs of the hockey community in Texas. Austin Stryker, Travis' brother, is scheduled to participate in Community Chest Hockey Game.
Made up of former Dallas Stars and local NHL alumni, the Dallas Stars Alumni Association (DSAA) uses hockey as a vehicle to serve the local community. As ambassadors of the sport, DSAA members act as role models, support charitable initiatives, and promote the growth of hockey throughout the Texas region.
For more information about fundraising for the opportunity to play in the Community Chest Game or to donate, please visit DallasStars.com/AlumniGame.
Mar 5
Canes Acquire Loktionov from New Jersey
Carolina Hurricanes
RALEIGH, NC – Jim Rutherford, President and General Manager of the National Hockey League's Carolina Hurricanes, today announced that the team has acquired center Andrei Loktionov (ahn-DRAY lawk-too-OH-nawf) and a conditional draft pick from the New Jersey Devils in exchange for forward Tuomo Ruutu.
"Andrei is a young, skilled forward who will play on our power play," Rutherford said. "Tuomo was a good player for the Hurricanes and we thank him for his contributions to our organization over the past seven years."
Loktionov, 23, has totaled four goals and eight assists (12 points) in 48 games with New Jersey during his first full NHL season. The Voskresensk, Russia, native made his NHL debut for Los Angeles during the 2009-10 season before suffering a shoulder injury. He returned to action the following year, and was a member of the Kings' Stanley Cup Championship team in 2011-12. Los Angeles' seventh pick, 123rd overall, in the 2008 NHL Entry Draft, Loktionov (5'10", 180 lbs.) has totaled 38 points (19g, 19a) and 20 penalty minutes in 135 career games with Los Angeles and New Jersey.
Kings Acquire James Livingston from Sharks
Press Release
LOS ANGELES – The Los Angeles Kings have acquired forward James Livingston from San Jose in exchange for a conditional seventh round selection in the 2016 NHL Draft, Kings President/General Manager Dean Lombardi announced today.
Livingston, who turns 24 on Saturday, has 15 points (4-11=15) and 22 penalty minutes in 53 games with the Worcester Sharks, San Jose's AHL affiliate. Livingston was originally drafted by St. Louis in the third round (70th overall) in the 2008 NHL Entry Draft. Livingston is expected to report to Manchester.
Cammalleri goal vs Senators

Mar 6
Battalion's Goodrow signs with Sharks
Ontario Hockey League
NORTH BAY, Ont. – Right winger Barclay Goodrow of the North Bay Battalion has signed a three-year, entry-level contract with the National Hockey League's San Jose Sharks, it was announced Thursday.
Goodrow leads the Battalion in scoring with 30 goals, 28 assists and 58 points in 57 games this season, his fifth with the Ontario Hockey League club since being a first-round pick, 17th overall, in the 2009 OHL Priority Selection from the York-Simcoe Express minor midgets.
"It's a great organization, and I'm thrilled to be a part of it," overager Goodrow, who was an undrafted NHL free agent, said of signing with San Jose.
"That was a big goal of mine coming into this season. I wanted to sign an NHL contract, and it feels great to accomplish that and be recognized for what I've done."
Stan Butler, the Battalion's director of hockey operations and head coach, said he was pleased for Goodrow.
"What it tells people is that you never give up. There's opportunity out there if you perform, no matter when it is in your junior career."
Butler called Goodrow, an Aurora, Ont., resident, "a good kid who's done everything we've asked of him."
"He's got better every year he's played for us and he made really good strides this year in his game, and San Jose has seen that."
Goodrow, in his second season as captain, has played a franchise-record 307 games, scoring 124 goals and earning 96 assists for 220 points while accumulating 247 penalty minutes. He ranks second in goals in franchise history to Wojtek Wolski's 130, is tied for 10th in assists and is fourth in points.
Goodrow has proved remarkably durable, never having played fewer than 60 games in a completed season. He scored a career-high 38 goals in leading the club in 2012-13, its last of 15 campaigns in Brampton, and has set career highs for assists and points this season.
A left shot who stands six-foot-two and weighs 214 pounds, Goodrow leads the Troops this season with 10 power-play goals, five shorthanded goals and seven game-winners. In terms of franchise totals, he's fourth in power-play goals with 43, first in shorties with 10 and the leader in game-winners with 27.
Goodrow, who attended camp with the NHL's Detroit Red Wings last September and declined an invitation to the camp of their Grand Rapids Griffins affiliate in the American Hockey League, said he was confident he'd made the right choice.
"I knew it would be a lot better for my development if I came back. It's been a memorable experience playing in North Bay."
He suggested that knowing he'll play professionally next season should make it easier to concentrate on the task immediately at hand.
"We have a special thing going on in North Bay, to go as far as we can in the playoffs and leave on a memorable note."
Two former members of the Battalion, both of whom were selected in the first round of the NHL Entry Draft, are playing with San Jose this season. Left winger Raffi Torres went fifth overall to the New York Islanders in 2000 and right winger Brent Burns 20th overall to the Minnesota Wild in 2003.
Jokinen goal vs Los Angeles

Galchenyuk goal vs Coyotes

Seguin Hat Trick vs Canucks



Tyler Seguin nets hat trick as Stars blow out Canucks
The Associated Press
Tyler Seguin didn't realize he had become a part of Dallas Stars history until he looked up at the video board.
That's when he learned he had tied a team record with his third hat trick of the season, joining Mike Modano and Bill Guerin. Seguin also had two assists Thursday night as the Stars beat the Vancouver Canucks 6-1.
"Until I saw it on the board, I wasn't aware," he said.
He was especially pleased to be in the company of Modano, whose No. 9 will be retired at the Stars' game Saturday.
"It's awesome," Seguin said. "I talk a lot with him when he comes to game. He tells me a couple of things about my game."
Seguin, the team leader with 29 goals, has had two of the NHL's six five-point games this season.
Jamie Benn, Alex Goligoski and Ryan Garbutt also scored for Dallas, which built a 5-0 lead. Kari Lehtonen made 32 saves, and Benn and Rich Peverley each had two assists.
Seguin scored twice in the first period, and completed his hat trick at 12:53 of the third by squeezing the puck through a narrow opening past Canucks backup goalie Jacob Markstrom.
Vancouver's Zac Dalpe scored at 18:15 of the second period.
Dallas solidified its hold on the eighth and final playoff spot in the Western Conference, improving to 9-3-2 in their last 14 goals.
The fading Canucks, 11th in the West, dropped to 1-10-1 in their last 12 and fell four points behind Dallas.
Vancouver coach John Tortorella said he didn't believe his team quit.
"I still think there is the people in (the locker room) that can help us pull through this and we're going to keep on going about it each day."
Canucks goalie Eddie Lack stopped only 12 of 17 shots before Markstrom replaced him. Markstrom, acquired earlier this week in the trade that sent Roberto Luongo to Florida, had four saves.
"It feels like we're ready when the game starts, and then we kind of just collapsed today," Lack said. "For me, I kind of just have to look at myself tonight … and have to be better."
Benn put in a rebound 2:57 into the game after Lack had stopped Seguin's backhand.
Seguin scored the second goal on a power play. He took a pass from Alex Chiasson behind the Canucks' defence and fired into the upper right corner from in front of the net.
"That was a big message before tonight's game, was our starts," Seguin said.
Stars take advantage
The Stars had been outscored 6-0 in the first period of their previous three games.
Even at 2-0, the lead appeared safe against a team that has scored only nine goals in its last eight games.
Seguin made it 3-0 at 11:59, taking a pass off the boards from Peverley and turning and one-timing a shot between Lack and the right goal post.
"The one he rips from the wall in the first period found a way to go in," Dallas coach Lindy Ruff said. "You could just say it's never a bad play to get it on net.
"His late one, for the hat trick, you wonder how it goes in, but it went in. (Vernon Fiddler) said on the bench, 'Those never go in for me.' It is funny how sometimes goal scorers find ways to put them in the holes."
The shots on goal, eight for each team, did not reflect Dallas' domination of the first period.
The Stars began the second on a 5-minute power play. Vancouver's Zack Kassian received a major penalty for boarding and a game misconduct for a hit on Brenden Dillon in front of the Canucks' bench with 1:30 left in the first period.
With that man advantage, Dallas took a 4-0 lead at 2:20 of the second. Ray Whitney passed from behind the goal line to defenceman Goligoski low in the right faceoff circle. He shot into the near side of the net. Seguin assisted on the goal.
At 12:08, Goligoski passed across to Garbutt on the left side, and his goal increased the lead to 5-0.
Goligoski said, "We came in more focused. We knew these guys have had a tough time scoring goals, so we needed to bury a few early."
Dalpe scored a power-play goal late in the period to get the Canucks on the board with a shot that hit Lehtonen as he tried to recover his position.
The teams again were tied in shots, with nine each. Vancouver outshot Dallas 16-5 in the third period.

Brad Loper/Staff Photographer, Dallas News

Brad Loper/Staff Photographer, Dallas News
May 7
Body shot
Craig Custance
ESPN.com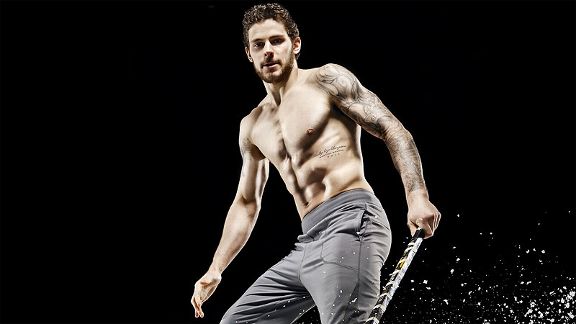 Dustin Snipes for ESPN
NOW IN HIS fourth season in the NHL, Stars center Tyler Seguin, 22, has made a name for himself as one of the league's most consistent and most consistently hardworking players. Through the Olympic break, he had 24 goals and 32 assists, putting him among the few point-per-game players, and, as he told The Mag, every home game ends with a workout. We chatted with the former NHL All-Star and Stanley Cup champ about his work ethic on and off the ice.
Craig Custance: What do you do during the season to maintain your physique?
Tyler Seguin: We practice pretty much every day, so there's only so much training you can do during the season. But after every home game, I work out. It's not an overbearing workout: a couple squats, a bit of core, activation of the glutes, some situps, a little upper body. It's toning, so every muscle gets burned.
Custance: Have you always been that diligent after games?
Seguin: When I was a rookie in Boston, it was mandatory, and I just stuck with it. The best time to work your muscles is when you're tired. Plus, after home games, you're not rushing to get on the bus or the plane.
Custance: What did you think of Jaromir Jagr's legendary postgame workouts when you both were in Boston?
Seguin: Pretty crazy. He did a lot of things that seemed odd to me, but I never judged anything he did — he's still playing at his age for a reason. Same with [Zdeno] Chara — he's in another world with his training.
Custance: How so?
Seguin: He is just a machine: in the weight room nonstop, every day, every night. I couldn't believe a guy could train that much. I called him a mutant. I'm 6-1, 195 pounds — not the heaviest guy in the world — so I always do well at pullups, around 26 or 27. Z went up and did 30.
Custance: What is the most important body part for a hockey player?
Seguin: I would say your core. Core helps your speed, helps you battle in the corners, helps your general strength. That's the focus of my offseason.
Custance: What do you do to strengthen your core?
Seguin: The most obvious and vital things are situps and pushups.
Custance: How many situps can you do in one sitting?
Seguin: I'm not sure. I never really do just one thing. But in juniors, when I was 16, I could do 70 to 90. That was a little harder; it was done to ticking as part of our testing. You have to go up on one tick, down on one tick, for as long as you can.
Custance: That sounds like the NHL draft combine. What was the toughest part about that?
Seguin: Probably the VO2 max bike test. It's only 30 seconds, but you bike as hard as you can with increasing weight. And there's a lady yelling in your ear. After I did it, I chugged a Gatorade and puked five seconds later. Then I just lay down and fell asleep for like eight minutes.
Custance: Wait. You fell asleep at the combine?
Seguin: I thought I would just close my eyes before the next test. I know I lay down, closed my eyes, and then I remember jolting up.
Custance: That's crazy! Okay, let's get back on track here. What is your favorite part of your body?
Seguin: My arms would be my favorite, because of my tattoos. Tattoos are an entertaining hobby of mine. I have a full sleeve on my left arm, and I have Stanley Cup writing and the date on my left ribs. I'm just starting my new sleeve on the right.
Custance: How do you decide what to get?
Seguin: I like to put something that's important to me together with art. I have a guy in Boston who does all my tattoos. I give him ideas, he'll sketch stuff from those ideas, and we'll go over it. I would never bring in a picture and say, 'Hey, do this.'
Custance: How about your least favorite body part?

Seguin: When I shaved my head, guys in Boston liked to call me Dumbo because of my big ears. Also, I have massive feet. My skates are 12 1/2. The guys always say the only reason I'm fast is because of my feet.
Custance: What about your body would surprise readers?
Seguin: [Laughs] My toes. They're so long, I can pinch someone harder with my toes than if I pinched them with my fingers. Isn't that odd? I can hurt someone with my toes.
Custance: What is the best advice you can give about training?
Seguin: I go into training thinking about what a guy my age playing hockey would be doing right now. 'What am I doing more than the next person to be the best?' Then I ask myself, 'What better food can I put in my body?' That's an important part of it. You can kill yourself in workouts, but if you have pizza after, it doesn't make any sense.
Custance: But you're not afraid to have a beer.
Seguin: I'm an easygoing guy. I'll have a beer and relax. Hockey is my passion, my job and my career. But there's still more to life than hockey.
Loktionov makes Hurricanes debut


Photo by Grant Halverson/Getty Images
Ruperts combine for 9 points in London win
Mar 8
Former Worcester Shark James Livington a model player
Bill Ballou
Telegram.com
PROVIDENCE — Yes, the James Livingston bobblehead promotion for tonight's game is still on.
Livingston won't be here, seeing he was dealt to the L.A. Kings organization — the Manchester Monarchs, to be specific — at the trade deadline for a conditional draft choice.
After the trade, Livingston called the Sharks' front office to inquire about being able to get some of those bobbleheads for personal use and was told he could, as long as he agreed to sign a few when the Monarchs come to the DCU Center on March 16.
While Livingston's season had turned into a major disappointment, he was not a player his coaches were glad to see depart.
"He was a good kid who worked hard and never cheated you," coach Roy Sommer said. "He had plenty of chances but he could never find a way to finish. Maybe he'll turn it around in Manchester. Guys seem to go up there and find a way to score. We wish the best for him."
Even though Livingston didn't produce offensively, he was diligent defensively. That's why he ended his Worcester career as a plus-7, one of just 10 Sharks players to get into 100 or more games and be in the black on the plus-minus equation.
Livingston was 4-11-15 in 53 games, taking 120 shots on goal, before the trade. At one point, he went 33 games between goals.
For Manchester on Friday night, Livingston was blanked in the Monarchs' 4-2 victory over Adirondack, but he did pick up a fighting major.
Livingston scores twice as Monarchs top Providence
Staff Report
UnionLeader.com
It apparently didn't take James Livingston long to get comfortable with the Manchester Monarchs.
He made his debut with the team in a win over Adirondack on Friday night at Verizon Wireless Arena.
On Saturday, Livingston scored a pair of goals to lead the home team to a 4-2 win over Providence in a matinee performance back at the arena.
Livingston, who joined the Los Angeles Kings organization from the San Jose Sharks earlier in the week, scored four goals in 53 games with Worcester this season.
The Monarchs are back it this afternoon with another home game, this one against Hartford.
Manchester improved to 38-16-8 with Saturday's win and continues to lead the American Hockey League in points.
Seguin scores vs Wild

Mar 9
Leivo's development continues with hat trick in Marlies 4-1 win over Monsters
Dhiren Mahiban
The Canadian Press
TORONTO – Steve Spott believes he's grooming Josh Leivo to be a second Joffrey Lupul for the Toronto Maple Leafs organization.
Leivo led the Marlies to a 4-1 victory over the Lake Erie Monsters Saturday with his second career American Hockey League hat trick.
"When you look at a Joffrey Lupul: big, strong, can play left wing or right wing, Josh has to watch and maybe mirror a Joffrey Lupul where he uses his size to his advantage and has a great shot and great puck possession," said Spott.
"He's a guy we'd like to mirror him after."
Leivo gave Toronto a 3-1 lead at 12:14 of the second, on a power play. He took a feed from Spencer Abbott and beat Monsters goalie Kent Patterson five-hole for his 15th of the season and second of the night.
Leivo completed the hat trick, giving Toronto a 4-1 lead at 19:11 picking up a loose puck at the side of the net and beating Patterson glove-side for his 16th of the season.
"I've watched (Lupul) a lot during the games and I'd love to play like him he's a great player," said Leivo. "If that's what Spotter sees, that's a good thing. I kind of watch him when he's skating out there and I kind of learn, see what he's doing.
"I just think I need to get a little bit better defensively. I think I'll be good."
Leivo picked up his first hat trick in a 5-2 win over the Utica Comets on Jan. 4.
Brendan Kozun also scored for the Marlies (34-19-4), who lost to Lake Erie Friday. Christopher Gibson improved to 3-1-1 with Toronto, making 21 saves in the win.
Andrew D'Agostini is working to put an end to Cystic Fibrosis
Christian Marin
ProsGiveBack.com
Andrew D'Agostini is wrapping up his fifth and final season in the Ontario Hockey League with the Peterborough Petes. He's made many friends throughout the years in Peterborough and has learned a lot of things from the community. One of the good relationships he's made over the years is with seven-year-old Anthony Romanelli, who is diagnosed with Cystic Fibrosis. Anthony's mother, Tracy, shared her son's story with the Petes over a year ago and hearing that children with CF run the risk of drowning in their own fluids really had an impact on D'Agostini. With some help from John Newman Contracting of Peterborough and GM Financial, the Petes were able to create Saves for CF, a community initiative benefitting the Cystic Fibrosis Foundation, last season.
"With Saves for CF, just broadcasting the cause and getting it out there, getting people involved and raising money, but especially with every save knowing that you're going out there on the ice every game not just with the purpose of trying to win a game, but you're also saving lives," says D'Agostini, "it means everything to me."
"I've learned over the years in the Ontario Hockey League that there's more to life than hockey. I've learned that I'm passionate, not just about playing the game, but influencing people and trying to make a difference in people's lives along the way and using hockey to do that," he continued.
"We spend a lot of time in the community doing all kinds of different things. Whether we win or we lose it doesn't change the fact that the fans support us and we need to show our support back to them and how much we appreciate it."
For every save made by a Petes goaltender in a game $1 is donated by John Newman Contracting and GM Financial to the Cystic Fibrosis Foundation, with last season's total topping $5,000. This season, D'Agostini, as well as newly acquired Jason Da Silva and former Petes goalie Michael Giugovaz, now with Belleville, have combined for 1,912 saves, with this year's total nearing $3,900 with five games to go on the season heading into Saturday, March 8, 2014.
Although it is D'Agostini's last season in the OHL, he will continue to help out with the organization and the Cystic Fibrosis Foundation.
"I will always be a part of the organization because I'm so close with Anthony and because we got the whole Saves for CF initiative started here. I'm hoping that they continue to do it. I'm sure Tracy will make sure that things are continued here as well," said the Scarborough, Ontario native.
"Peterborough will always be my home now having spent five years here and I'll always have that close connection with the Cystic Fibrosis cause, as well as all the other relationships I've made along the way that will last a lifetime, so for that reason among others I'll always be connected with Peterborough," he continued.
"Peterborough has developed a lot of quality individuals as well as hockey players and it's definitely an organization that I'm proud to be part of and thrilled to have spent my entire career here."
D'Agostini is hoping that wherever he ends up next he can bring the initiative with him and make some sort of difference in a new community.
"When it comes to doing things in the community I just love to go out of my way to put a smile on someone's face or to influence them. Good things happen to good people and I try to share that with as many people as I can."
After the 2010-11 season D'Agostini won the Ivan Tennant Memorial Award for Top Academic High School Player. The following season he was awarded the Dan Snyder Memorial Trophy for Humanitarian of the Year, the second Pete to win the award in as many years.
"I tell everyone that asks that I don't do it for the honour and being awarded for it, the reward to myself is seeing results and seeing these causes and people benefitting from things that I do for them and heading in the right direction. That award [Dan Snyder Memorial Trophy] is one of the highlights of my career and it will always be. It really means a lot me to be recognized for it. At the same time, it was important to me because this award was not just for my work with Cystic Fibrosis, it was also for all the extra time I put into the community making an impact on a number of people's lives."
For more information on Saves for CF, visit http://www.gopetesgo.com/page/saves-for-cf
Blain scores GWG for Fort Wayne vs Komets
Mar 10
Seguin loving the drive for the playoffs
Pierre LeBrun
ESPN.com
Being named the NHL's first star of the week is nice and all, but the only thing on Tyler Seguin's mind after Monday morning's skate was the next 48 hours and pair of playoff-like games versus Columbus and St. Louis.
"You got it," the red-hot Stars center told ESPN.com over the phone from Dallas.
Winners of seven of their last 10 games, the Stars begin the week with a three-point cushion over Phoenix for the last playoff spot in the Western Conference.
The Stars host the Blue Jackets Monday night before turning around to take on the first-place Blues in St. Louis on Tuesday night.
Every night has a playoff feel these days.
"Pretty much," said the former Boston Bruins forward. "Usually, the last few years I'm used to trying to play for first place or third place in the conference at this time of year. But this playoff push has really made our team go to the next level. We've got a group of guys that's really bought in together. This is the most fun I've had in hockey in a while."
Seguin is only 22 but on a Stars team that has missed the playoffs for five straight seasons, so that also makes him a playoff veteran, given his Cup ring from 2011 in Boston plus a return trip to the Cup finals last spring.
He knows what it takes at this time of year and it's something he's tapping into right now.
"It's more responsibility, for sure," said Seguin. "I don't know if you want to call it added pressure but I think my game has grown a lot this year. I'm in a different role and I'm looked up to a little differently just because I do have that experience, even for a young age. I'm just trying to make the most of this opportunity and show what I can do with my experience."
These days, Seguin can do no wrong. He's fifth in NHL scoring with 66 points (29-37), his play alongside winger Jamie Benn all season long a thing of beauty to behold.
Don't you love it when a plan comes together? GM Jim Nill trades for Seguin last summer, thinking a change of scenery would elevate Seguin to that next level, that he could become a franchise player in Dallas. Head coach Lindy Ruff decides to put Benn back on the wing and move Seguin to his natural center position.
It's all worked so well between the two star forwards, each player responding brilliantly to the changes.
"I think that chemistry is just going to continue to grow," Seguin said of Benn. "Since Day 1, we became good friends off the ice. We definitely are two competitive guys and push each other a little bit. He hasn't experienced playoff games but going to the Olympics and winning that gold medal was huge for him and he saw how he could handle that kind of pressure on that stage. He's gained confidence from that and he's been great since he's been back."
It's not all positive, though. The Stars have lost starting netminder Kari Lehtonen — who has been tremendous this season — to a concussion after Minnesota Wild player Erik Haula collided with him Saturday night.
"Kari has definitely been the backbone of our team. I know he has been for a few years here in Dallas," said Seguin. "He's a quiet guy but definitely a true leader. It's terrible to see him go down. I still haven't seen the replay. Hopefully, he comes back sooner rather than later."
All of which makes Nill's decision to pick up Tim Thomas before the trade deadline even that much more inspired. Who knows how long Lehtonen will be out, but at least Seguin knows a lot about the veteran netminder stepping in for the next little while.
"Timmy has maybe the weirdest goaltending style in the league, but I've had a front-row seat and seen what he can do in a big-time game with everything on the line," Seguin said of his former Bruins teammate. "He's a true competitor, loves the game, and he works really hard. I was really happy with his acquisition. Good on Jim to get a goalie like Tim."
Can the Stars pull it out? Can they finally make the postseason after a half decade on the sidelines?
Few people before the season had them making it this season in the tough Western Conference. And truth be told, the Stars themselves weren't sure what to expect.
"I don't know if we even knew about our expectations this year, there was just so much new with the team," said Seguin. "You look at new management, new coaches, new players, new jerseys, so many new things, it was hard to know where we'd be this year. But I think we've earned the right to be where we are in that playoff hunt, we're fighting to stay in that last spot and move up if we can. We're having a lot of fun with it right now."
Tyler Seguin named first star of the week by NHL
Mike Heika
Dallas Morning News
NEW YORK (March 10, 2014) – Dallas Stars center Tyler Seguin, Columbus Blue Jackets center Artem Anisimov and New Jersey Devils center Adam Henrique have been named the NHL's 'Three Stars' for the period ending Mar. 9.
FIRST STAR— TYLER SEGUIN, C, DALLAS STARS
Seguin led the NHL with nine points (4-5–9) as the Stars (31-23-10) earned six of a possible eight points for the week, strengthening their hold on the second Wild Card position in the Western Conference. Seguin notched one assist in a 3-2 win over the Buffalo Sabres Mar. 3 and tallied five points, including his third hat trick of the season, in a 6-1 win over the Vancouver Canucks Mar. 6. He finished the week by tallying a goal and two assists in a 4-3 victory over the Minnesota Wild Mar. 8. Seguin's eight-point outburst was the most points by a Stars player in a two-game span since the 1992-93 season, when Mike Modano notched 3-5–8 from Feb. 1-3. The 22-year-old Brampton, Ont. native ranks fifth in NHL scoring with a team-leading 66 points (29-37–66), while his Stars-high 29 goals is tied for sixth overall.
Varone posts back-to-back three-point games
Lynch scores twice in Walleyes win
D'Agostini earns fourth shutout of the year
Cammalleri goal vs Kings

Mar 11
Seguin Discusses Rich Peverley

Captain Clutch will swim with the sharks.
Steve Hardy
North Bay Nipissing News
North Bay Battalion captain Barclay Goodrow, 21, has signed a three-year, entry-level contract with the San Jose Sharks of the National Hockey League.
"This is something I have worked hard for for a long time," said the Aurora native. "They have a great organization. It seems like a good fit for me."
Goodrow, who leads the Battalion in scoring this season with 61 points (30 goals and 31 assits), made the announcement on his Twitter account on March 2, saying: "Couldn't be more excited to sign my first NHL contract with the @SanJoseSharks, thanks to everyone for the support along the way"
Goodrow's deal was part of a memorable week for the Battalion, who decisively won three straight games, outscoring the opposition by a 16-2 count, and climbed back into top spot in the OHL's Central Division after a 4-1 impressive effort over arch-rival Sudbury Wolves on Sunday afternoon at Memorial Gardens in front of 4,133 fans. Mike Amadio scored twice for North Bay with Miles Liberati and Matt MacLeod each scored once.
Delighted about the chance to make his mark in the pro ranks, Goodrow says his focus right now is leading the Battalion into the Ontario Hockey League post-season.
"Right from day one here the goal was to have a good season and go into the post-season with the highest seed possible," he says.
Sudbury and North Bay resume the chase for the division title March 14 in the Nickel City at 7:30 p.m.
Goodrow is finishing up his fifth and final season with the Battalion, the first four in Brampton and his name is all over the club's record book and a new entry seems to be added each game.
Among other marks, he leads the club in games played with 310, game-winning goals at 27 and shorthanded goals with 10.
North Bay's Marcus McIvor is delighted his friend and former roommate is headed to the pro ranks.
"He's the prototypical captain," said McIvor. "Night in and night out – you know what you are going to get from him."
Goodrow credits the support of his family for his success.
"This reflects them as much as myself," he said.
After turning down a chance to play in the Detroit Red Wings farm system in the 2013-14 season, Goodrow returned to the Battalion for their inaugural season in the Gateway City.
"It couldn't have gone much better," he said. "What will make it more complete is winning the division and going as far as we can in the playoffs."
His on-ice leadership is clear to those who have seen him play. He has demonstrated his ability to lift and carry the team on his back when needed time and time again, particularly early in the season.
McIvor, who is an alternate captain with the Battalion, says Goodrow's presence in the dressing room is a formidable one.
Dunn scores OT winner vs Armada
Mar 12
Cammalleri goal vs Ducks

Mar 13
NHL Draft Watch: Josh Ho-Sang

Tyler Seguin comes of age with Dallas Stars
Sarah Kwok
SI.com
Getting shuttled off a perennial Stanley Cup contender in a feverish hockey market to an also-ran in the middle of Texas could have been a demoralizing and disheartening blow for a 22-year-old kid, but looking at Tyler Seguin today, the trade that sent him from the Bruins to the Stars last July doesn't seem to have fazed him one bit. In his first season with Dallas, the forward has emerged as every bit the offensive wonder he was touted to be when he was drafted with the No. 2 pick in 2010. With 67 points in 63 games, tied for fifth best in the league, Seguin has the Stars in position to make their first playoff appearance since '08.
A move to his natural position at center — Seguin played mostly on the wing in Boston — has seemed to serve him well, as has the almost-instant chemistry he found with 24-year-old winger Jamie Benn. Seguin spent some time after the trade going through his Benn's highlight reel, and the film sessions have clearly served both players well; each is on pace to smash career bests this season.
Considering the turmoil that surrounded Seguin and his trade eight months ago, everything has gone surprisingly well. When he was unceremoniously dumped by the Bruins, Seguin left town with rumors of excessive partying and general immaturity trailing in his wake. On the day he was traded, he was snapped red-Solo-cup-handed in photos that appeared on Instagram. A post-trade report from the Boston Herald even alleged that the Bruins had kept a watchful eye on the doors to his hotel rooms during the playoffs, fearing that the youngster would sneak out to party like a teenager breaking curfew.
While more than a few Boston fans may have bid Seguin good riddance at the time, there may now be some regret in Beantown in light of his stellar play this season. After all, Blackhawks winger Patrick Kane went from alleged problem child to Conn Smythe winner — Chicago stuck with Kane, and the patience paid off. But not all of these cases come down to patience.
In Seguin's situation, it was more about fit — a bit like the case of another former Bruins forward, Phil Kessel, who has flourished since leaving Boston and now ranks second in league scoring for the Maple Leafs. In his time with the Bruins, Kessel didn't really fit in the mold of Boston's brand of hockey, one marked by rugged responsibility in every zone. And in many ways, neither did Seguin. Truth be told, it's safe to say that neither Kessel nor Seguin would be having the same kinds of scoring seasons had they remained with the Bruins. In Boston, players mold themselves into the team's identity, not the other way around.
So with two former Bruins near the top of the league's scoring race, it's easy to lament what's no longer in Boston. But it's also hard to criticize Bruins GM Peter Chiarelli, whose team is firmly atop the Atlantic Division, and has made two appearances in the Stanley Cup finals in the last four years. In both cases, it's probably a credit to Chiarelli for identifying that neither the team nor the talent was getting much benefit from the relationships, and recognizing that all three parties (Kessel, Seguin and the Bruins) could be more successful apart than they could be together. Success can be just as much a product of circumstance as it can be of talent.
Seguin, for one, can certainly see that side of the coin now. "I feel [Dallas] is almost where I should have gone in the first place," he said in January. "When you're ranked as high as I was [before the draft], you don't usually go to a Cup-contending team … Here, I'm right at the beginning of it."
As much as he'll help the Stars, Seguin will get even more from being in Dallas and being around such people as longtime NHL coach Lindy Ruff and stalwart veteran Ray Whitney. With more ice time, Seguin has had more opportunities in every game. But more importantly, he is allowed to make mistakes in Dallas, where the bar hasn't been set very high in recent years. He's winning, for example, only 41.7 percent of his face-offs — making draws an area for improvement, not a reason for demotion.
In Dallas, Seguin is a foundation block on a team that is building, and now, he can grow with his team, and not into it.
Goldobin goal vs Kitchener

Babintsev scores natural hat trick
Mar 14
Lynch recalled by Grand Rapids Griffins
Goodrow nets pair in key win over Generals
Dylan DiPerna battles Ryan Moore


Photo by: DAVID BEBEE/Waterloo-Record
Cammalleri's goals vs Stars


Dunn scores four goals in Gatineau win
March 16
Seguin goal vs Jets

Jokinen goal vs Stars

Cammalleri back to his sniper ways
George Johnson
Calgary Herald
Assessing blame to a specific day would be too easy. Pinning a lengthy lack of offensive oomph on one lonely square — March 5th — among 365 to be found on any calendar is just a bit difficult to swallow; a trifle too convenient.
"It was an anxious little while, leading up (to the deadline)," admits Mike Cammalleri. "But I can't put my struggles down on just that. I'm not going to be that way. I don't know how much something like that affects your subconscious. Sorry, that's not my area of expertise. But I'm not going to sit here and blame any one or two things, say that I was distracted in any way and that's why I wasn't producing.
"I don't know how to explain it. I just went through a really unproductive stretch, for an extended period of time. That's never any fun. But I'd don't know if I've ever gone through one like that at anytime in my career."
A self-deprecating grin.
"If I did, I must've erased it from my mind."
Still, this one may be difficult to zap out of there for a while.
One slender point in eight games prior to suffering a concussion that forced him to step away for nine starts — from Jan. 13th through the 30th. Then zero in the opening half-dozen starts after returning to the Calgary Flames' lineup Feb. 1st.
For someone as accustomed to scoring goals as Cammalleri, that represents a significant drought.
A goal scorer's equivalent of writer's block, perhaps, or a golfer on the cut stuff holding a flat stick struggling with the yips.
It's obviously be a tad too late to help facilitate the trade that everyone thought was on March 5th, but Mike Cammalleri is heating up again. That familiar swagger has returned; as has the old, happy sense of anticipation every time he touches the puck.
Saturday at Jobing.com Arena out in Glendale, Ariz., a couple of helpers, including a splendid pinpoint pass to an onrushing Mikael Backlund at Coyote goaltender Mike Smith's near post to momentarily pull the visitors even, pushing a modest personal scoring streak to four games (4G, 2A).
That output came on the heels of a two-goal night 24 hours earlier at American Airlines Center in Dallas which came in the shadow of goals in the Flames' previous two starts, against L.A. and Anaheim.
His recent form has him now tied with rookie Sean Monahan for the club's goal-scoring lead, at 19.
It may beggar belief but Friday's outburst represented Cammalleri's first multi-snipe game since — wait for it — way back on Nov. 8th.
Much of the reason for his uncharacteristic lack of production pre- and post-concussion, many automatically assumed, was a growing anticipation of a change of address.
An unrestricted free agent come July 1st, with his playoff resume, Cammalleri seemed a slam-dunk to be moved elsewhere to a playoff-bound alternative before the 1 p.m. MST trade embargo arrived and passed. But try as he might 'interim' GM Brian Burke couldn't find a taker under the circumstances.
Cammalleri says he's past whatever complicated feelings he had leading up to the deadline. It's forward march from here until Game 82.
"I've always been a guy who usually plays his strongest hockey at the end of the year and into the playoffs."
There'll be no playoffs for the Flames for a fifth straight springtime, as everyone knows. Yet for boss Bob Hartley, there will be no quitting as they play out the string. A never-say-die that pulled them all the way back from two goals down in Dallas and very nearly did the next night in the desert. A nice bonus Saturday was a goal from the injury-plagued Curtis Glencross, his first since Nov. 15th, signifying that better times are ahead for the left winger.
"Glennie is skating better and better," said Hartley optimistically. "It's great to have him back in the lineup. Its going to take him a while but I think he's showing some really good signs.
"Our guys deserve lots of credit. Our team didn't panic, we stayed in the game. We talked between the first and second. This is the beauty of this group. We are very focused.
"And Cammy, another big game."
With the stretch run upon us, and unrestricted free agency not that far down the road, Mike Cammalleri is heating up again. The slump behind him; looking more and like his old self.
Making himself attractive not only to outside potential suitors, but to his current employers.
When informed that he appeared more at ease on the ice the last week to 10 days, he replied: "I'm not relaxing. I'm just re-engaging here and really feeling good about playing the game and what we're working on.
"It's nice to produce. It's obviously a part of my responsibility on this club."
Mar 18
Seguin goal vs Penguins

Cammalleri goal vs Sabres

Mike Cammalleri stays hot in Calgary Flames 3-1 win over Buffalo Sabres
The Canadian Press
CALGARY – Most expected that Mike Cammalleri would be on a different team by the NHL trade deadline, helping a playoff contender win games down the stretch.
Instead, he remained in Calgary where his red-hot scoring is helping the Flames chalk up victories.
Cammalleri's 20th goal of the season midway through the third period was the game-winner Tuesday night as Calgary downed the visiting Buffalo Sabres 3-1.
Mikael Backlund beat Matt Ellis on a faceoff in the Sabres end, drawing the puck back to Chris Butler. The defenceman's shot was neatly deflected by Cammalleri past Nathan Lieuwen.
Cammalleri has seven goals in his last nine games. That comes after a stretch leading up to the NHL trade deadline in which he had one goal in 14 games.
"I thought a few weeks ago he was shooting as well as he is now, but it just seemed the puck would find a pad or find a post or miss the net. Right now, Cammy's on fire," said Flames coach Bob Hartley.
The 31-year-old, who will be an unrestricted free agent this summer if he doesn't re-sign, takes over the team lead in goals from rookie Sean Monahan.
"It's not a surprise to us," said Hartley. "He's very talented. He's Johnny-on-the-spot. He has that knack to find that open space around the net."
The Flames have been particularly hot at the Scotiabank Saddledome winning nine of their last 11.
"It's fun to play well at home. We love our fan support," Cammalleri said. "In the first period, we didn't really have the bite to our game that we would have liked to but I'm proud of the group to get it going again and playing the last 40 the way we wanted to."
Loktionov goal vs Columbus

Savard playing bigger role for Columbus since Olympic break
Dan Kamal
Fox Sports Ohio
The defense rests.
Yeah, sure, maybe in the courtroom, but not on the Columbus Blue Jackets back line. Not even close, especially since the roster was depleted with injuries to two of the team's top-six defensemen. Fedor Tyutin missed the first eight games after the Olympic break before returning for the game in Minnesota, and Ryan Murray has been out since injuring his knee in Toronto March 3.
As far as playing a steady, shutdown kind of game, those two D-men had been as good as the Blue Jackets had on the blue line. So, how has the team gone 6-2-1 since the NHL resumed play after Sochi? You know that old hockey adage about injuries presenting opportunities for other players? Apparently it's not just a cliche – in this case, it's turned out to be very true.
Everyone on the blue line has stepped up. Actually, Dalton Prout stepped back in, from Springfield, and is playing at a level much like his impressive rookie season last year. Veterans Jack Johnson, James Wisnewski, and Nikita Nikitin (who missed a game after being injured in Chicago) have eaten big minutes in critical situations. And Nick Schultz has added needed steadiness and depth after coming over from Edmonton at the trade deadline.
Playing meaningful hockey in March? That shouldn't come as a surprise with this group, as it is expected by all within the organization.
Then there is David Savard. The kid who fell out of favor last season because he couldn't quite grasp, or commit, to the work it takes to stay in the NHL, is continuing one of the most compelling renaissance stories of the year. In the nine games since the Olympics, Savard has stepped up his game — and his minutes — in a huge way for Columbus. He has averaged well over 20 minutes a game in that time and has twice topped the 25-minute level. And he's having a blast.
"Yeah, it's fun," he smiled. "Every hockey player wants to be on the ice. I love the new challenge. I think it was a huge task, but I think everybody has stepped up their game and tried to fill the holes. I think we did a pretty good job, but we're happy to have Toots (Fedor Tyutin) back, that's for sure. He's a huge part of our team, and he's going to help us on this push."
As much as he has embraced the heavier workload lately and proved he can handle it, Savard says he really hasn't changed his game as the shifts have increased and the time on ice has mounted.
"You try and stay focused, even if you're not playing a lot of minutes," he explained. "Obviously, anything can happen in a game — somebody gets hurt or something like that – so you always have to prepare as if you're going to play a lot of minutes and stay focused. Every game I come in and try to be focused on planning to play 25 (minutes). If I end up playing 16, I'll try to be at my best for that time."
It isn't just the increased minutes that the Quebec native has handled so well. He's also been asked to play big shifts at critical times against the opposition's best players. He admits that's been different for him, not to mention very challenging.
"Obviously, it's different if you play against top lines than a third line," Savard said. "A third line is more of a forechecking line usually, but when you get to play against the best players in the world, like Thornton, Toews, Kane, you have to be aware that they have sick hands, and they can dangle you anytime. I just try to play my game and bring a physical aspect to it."
Last season, Savard played a total of four games for Columbus. He got the message loud and clear and committed to doing what it takes in the offseason to have a chance to stick at the highest level of hockey. The re-dedication is paying huge dividends, for him and for the Blue Jackets.
"It was disappointing last year," he admitted. "It had a lot to do with myself, and that's why I worked so hard this summer. I wanted to prove that I could do it. I'm pretty happy about where I am right now, and I'm trying to keep going, keep improving and hopefully becoming a huge part of this team. It would be great. Obviously, I'm a part of the team now, but I want to keep getting better and better and help this team get into the playoffs and make a run at the Stanley Cup."
Oligny nominated for Kevin Lowe trophy as best defensive defenceman
Dunn named QMJHL Third Star of the Week
Iafrate named Kitchener's best offensive defenceman
Blain runner-up for ECHL player of the week
Kea scores winner as Spirit edge Greyhounds 4-3 in OT
Mar 19
Max Iafrate signs ATO with Lake Erie
Mar 20
Gomez goal vs Coyotes

Thomas scores GWG in win over Abbotsford
Goodrow recognized five times in OHL Coaches Poll
Mat Clark in Studio – Sportswrap
Dad's influence helping Courtnall's career
Matt Blundell
TheAHL.com
Very few young hockey players have the luxury of having one National Hockey League player as a mentor. Two is almost unheard of.
Meet Justin Courtnall.
Justin is the son of long-time National Hockey League forward Geoff Courtnall and the nephew of Geoff's younger brother, Russ, also of NHL fame. Geoff played 17 seasons in the NHL, notching 799 points in 1,049 regular-season games with Boston, Edmonton, Washington, St. Louis and Vancouver and winning the Stanley Cup in 1988 with the Oilers. Russ played 16 years in the NHL, tallying 744 points in 1,029 regular-season games with Toronto, Montreal, Minnesota/Dallas, Vancouver, the New York Rangers and Los Angeles.
Justin, now in his first season with the Hamilton Bulldogs and his second as a professional, is quick to credit his family for his success.
"Yeah, they're definitely one of the main reasons I've made it to this point," he said. "Growing up I always had someone to look up to and always had childhood heroes within my family."
The question is which role model does Justin try to replicate his own game after most?
"I think my dad," said the 24-year-old Courtnall. "I wanted to be exactly like my dad. Growing up, I basically tried to emulate him and become a player that could be in the same category as him. I really watched him. He was obviously my favorite player."
While having such role models has been extremely influential to Courtnall's development, the lifestyle of having a father in the NHL isn't always the easiest one for a family to deal with.
"Growing up with a father who played hockey during the season, you didn't see him a lot with him being busy and on the road, but it was a lot of fun," Courtnall said. "He took us to the rink all the time and we grew up around the hockey world. It was definitely a special upbringing and made me who I am today."
Courtnall was drafted by the Tampa Bay Lightning in the seventh round of the 2007 NHL Entry Draft. The 6-foot-3, 210-pound forward played his junior hockey in the British Columbia Hockey League, and played for his dad in Victoria after Geoff was hired as head coach midway through the 2007-08 season. The team won the BCHL regular-season title in 2009.
"It was great. I had a really good time there and learned a lot from my dad," Courtnall said. "Obviously at times he was harder on me than the other guys, but I kind of expected it and embraced it. I knew he was trying to make me better and I never really got down about it or anything."
It wasn't only the head coach who was hard on Courtnall at times. Many players around the league often targeted him simply because of the name on the back of his jersey.
"It was tough at times, but I learned to play with it and deal with it," said Courtnall. "It definitely gives you a thick skin and teaches you how to play with guys coming after you all the time. At times it was almost fun because it was easy to get into the game because someone was always trying to hit you and you had to be on your toes."
After his four seasons in the BCHL, Justin decided to pursue an opportunity with Boston University.
"In their recruiting process, they had just won the national championship," Courtnall said. "That was definitely a big draw for me because I obviously wanted to win. Being such a well-known program, I knew I had a really solid chance of being turned into a pro there."
Courtnall spent three years with the Terriers, seeing an increase in production each year. In his junior season, he served as an assistant captain and recorded seven points (four goals and three assists) and 73 penalty minutes in 39 games.
Courtnall was then faced with the difficult decision of whether to return for his senior season or pursue a pro career.
"I felt that I accomplished everything that could be accomplished in the role that was given to me on the team," said Courtnall. "If I wanted to try and make it to the NHL, my best option was to move on."
In 2012, Justin signed with the Providence Bruins, but played in only five AHL games. He spent the majority of 2012-13 with South Carolina of the ECHL, tallying nine points and 92 penalty minutes in 44 games. His tenacious, two-way play earned him a one-year contract with the Bulldogs this past off-season.
A combination of physicality and skill has seen Courtnall become a valuable AHL player this season. While he likes to engage physically, he doesn't consider himself a heavyweight.
"I wouldn't call myself a heavyweight fighter," Courtnall said with a grin. "But I'll stick up for my teammates at any time. I just try to be a team player and if the guys need a little bit of a lift I don't mind bringing that into my game."
His team-first attitude and whatever-it-takes approach has allowed Courtnall to find a key role with the Bulldogs. While he continues to chase the NHL dream, there's no denying that his rich hockey bloodlines and instrumental mentorship with his father have been critical to his success.
"Without him coaching me," Courtnall said, "I probably wouldn't have been able to make it to the next level."
Mar 21
Cammalleri's goals vs Nashville


Mar 22
New line, same results from Cammalleri
Andrew Halipchuk
Calgary Flames
CALGARY, AB — Calgary Flames forward Mike Cammalleri added again to his point haul Friday night, while playing with a new set of line mates.
In a 6-5 loss to the Nashville Predators, Cammalleri led the Flames offence with two goals and an assist. Despite the offensively productive night, the 31-year-old was left wanting more after the game.
"You're never pleased, you always want more," Cammalleri said. "Trying to think of it in that way, just trying to keep improving and work hard.
"It would have been nice to get one more there at the end when we needed one more."
With the introduction of rookie Kenny Agostino into the lineup, Cammalleri was moved from a line with Sean Monahan and Joe Colborne, to Mikael Backlund and Paul Byron's line. In their first game together, Cammalleri, Backlund and Byron accumulated five points (3g, 2a) against the Preds.
"They [Backlund, Byron and Cammalleri] were flying [tonight]," Flames coach Bob Hartley said. "They were playing the game the right way, on pucks, and making plays.
"I felt that tonight they were our best line."
Mikael Backlund, who scored a goal and added an assist in Friday's loss, was pleased with the chemistry his line had during their first game together.
"It's fun [playing with Cammalleri] obviously, he's a great player," Backlund said. "He's been on fire as of late."
Since the NHL trade deadline passed on March 5, Cammalleri has been on a tear for the Flames, scoring eight goals and adding four assists in nine games. During this stretch, he has been held off the score sheet just once, in a 2-1 loss to the Vancouver Canucks on March 8. Since then, Cammalleri scored seven goals in six games.
"One of my responsibilities on this team is to produce," Cammalleri said.
After Friday's game, Cammalleri leads the team in goals with 24 and currently sits fourth on the team in total points with 34.
His new line mate, Backlund, currently has 18 goals this season, which is already a career-high for him; but he is closing in on the 20 goal milestone, something he desperately wants.
"Obviously it is a goal that I have," Backlund said. "I'm not going to lie, it will be a huge career milestone for me.
"I've been battling hard all year with some ups and downs, to finally get there would be a nice reward to myself."
Galchenyuk eager for chance to play centre as Canadiens visit Leafs
The Canadian Press
BROSSARD, Que. – It's probably a matter of time before Alex Galchenyuk becomes a full-time NHL centre.
And it looks like he may get a shot at his natural position when the Montreal Canadiens visit the Toronto Maple Leafs on Saturday night.
Coach Michel Therrien did some line juggling in practice Friday after a 3-2 home loss to the Columbus Blue Jackets. He had Galchenyuk in the middle between captain Brian Gionta and Rene Bourque but cautioned he hadn't made a final decision on his forward units.
Galchenyuk, the third overall pick in the 2012 draft, has played at centre only occasionally in his first two NHL seasons.
"I like the position so I'm excited for the game and I'm excited to play," the 20-year-old said. "We'll see what happens.
"I want to establish myself as a centre in this league. I'm still young and I still have a long way to go, but I want to make a step in the right direction."
Galchenyuk has 12 goals and 16 assists in 56 games, including two goals and three assists since returning Feb. 26 from a 15-game layoff with a broken hand.
Getting ice time at centre has been tough.
David Desharnais is producing regularly on the top line with Max Pacioretty and Thomas Vanek. Veteran Tomas Plekanec, one of the league's best two-way players, is at centre on the second line.
Therrien's new units had the struggling Lars Eller dropped to centre on the fourth line with Travis Moen and Dale Weise.
Gionta feels Galchenyuk has the skill to handle playing centre on a regular line
"He's a good enough and smart enough player, it's just a matter of being able to handle it night in and night out," said Gionta. "It would be nice to see how he is out there."
Bourque, who has endured a miserable season with only five goals in 53 games, hasn't played in five games. He said it was the first time in his nine-year NHL career he was made a healthy scratch.
He spoke with Therrien this week about what he needs to do to get back in the lineup and now looks like he will get a chance to redeem himself. Therrien said he wants to see Bourque "show some improvement."
"I'm looking forward to it," said Bourque, a two-time 27-goal man. "It's been a tough go.
"I just have to score — just get myself in position to shoot more. A lot of times I'm too much down in the corner, so maybe let other guys go in the corner more and try to get open."
Bourque also likes the idea of playing with Galchenyuk, a slick skater and passer who is considered the club's star of the future. His linemates tend to get scoring chances.
"I was waiting for him to play centre," said Bourque. "That's his natural position.
"Davy's obviously good at distributing the puck up and the middle and I think (Galchenyuk) could be that guy too. We need another play-making centre on our team and he definitely has enough skill in his hands to make a lot of good passes."
Cammalleri goal vs Oilers

Mar 23
Beskorowany backstops IceCaps to shootout win over Bridgeport
Josh Leivo leads Toronto Marlies' special teams in 3-2 win over Abbotsford Heat
Larkin Gives ECHL's IceMen New Hope
Niagara IceDogs nab home-ice advantage on Carter Verhaeghe's late snipe
Mar 24
Seguin goal vs Jets

Galchenyuk shootout winner vs Bruins

NHL pals Michael Cammalleri, Jarome Iginla holding hot hands
Eric Francis
Calgary Sun
The only player in the NHL hotter than Michael Cammalleri may just be one of his best friends, Jarome Iginla.
"We like to push each other," said Cammalleri, with a laugh, of his old Calgary Flames linemate. "I really believe we play the consummate team sport.
"You want to look into that deeper? The Boston Bruins (had won 12) in a row (heading into Monday night's action) — and Iggy's doing what he does. We've had more success here of late, and individuals start to put up numbers."
Crazy numbers.
Heading into last night's action, Cammalleri had eight goals in seven outings to go with five assists.
Iginla, who is also on one of his famous binges, has eight goals in his last six games as part of a late-season rally to try scoring 30 goals for the 12th time in his career.
Have the two been sharing tips or motivating one another as part of their regular text exchanges?
"We've been quiet of late," said the gap-toothed Cammalleri, with a smile, of the radio silence between he and Iginla.
"Usually we talk more when things aren't going as well — kind of more for support, and to remind each other it will go the way you want. Usually, when it goes the way you want, we let each other go for a while. I'm sure we'll talk soon enough."
Cammalleri may want to congratulate Iginla on being named the NHL's third star of the week behind Detroit Red Wings forward Gustav Nyquist (six goals and one assist in four games) and New York Rangers goaltender Henrik Lundqvist (a 3-0 record with a 1.67 goals-against average, a .942 save percentage and one shutout.
The common belief is that Cammalleri is now benefitting from shedding the trade-deadline distractions that had everyone — including himself — believing he'd be moved as a pending unrestricted free agent.
However, Flames head coach Bob Hartley offered a slightly different twist on why Cammalleri has been so successful of late.
"Michael Backlund has been very — I shouldn't say silent or invisible — but he has been a big, big factor," said the coach of Cammalleri's regular centreman.
"Michael Backlund is turning out to be one of the best two-way centremen in this league. The way he skates, the way that he reads on powerplay and on penalty killing, he's maturing. He has a great chemistry with Cammy."
Cammalleri now has 10 goals and 15 points his last 12 outings, which shouldn't be a big shock given he also rose to the occasion his last-go-round in Calgary in 2008-09, when he put all distractions aside as a pending unrestricted free agent to post 39 goals alongside Iginla.
"Cammy has been great all year," Hartley said.
"Since I got here, I met a guy that is very proud of himself and proud of his game. He works extremely hard on and off the ice. He's been great playing and is a great role model for our younger players. Right now, he's getting rewarded."
The real reward comes this summer when he tests the open market.
Yes, more and more of an argument can be made that his last few weeks have made it possible for the Flames to shell out upwards of US$5 million a year to keep Cammalleri in Calgary as a mentor of sorts during the rebuild.
However, staying here makes very little sense for him, as he's a Toronto native who can pick his destination this summer and will be paid more to go elsewhere than to stay here.
One place he won't be going is Edmonton. Like many in the hockey world, he admitted Monday he felt sorry for everyone involved with the Oilers following the Flames 8-1 win Saturday night.
"You try not to take any happiness out of other people's suffering," said the 31-year-old. "I know how engaged we all are in this, so whether it's management, coaches or players, you'd hate to be in that situation yourself. Do I like beating them? Sure, I do.
"Do I like seeing people tortured and suffering? No.
"It's tough stuff."
Mar 25
Canes' Loktionov makes smooth transition
Chip Alexander
News Observer
RALEIGH — Walking into a new locker room and joining a new team is never easy, but Andrei Loktionov appears to have had a smooth transition with the Carolina Hurricanes.
Obtained in the trade this month with New Jersey that sent Tuomo Ruutu to the Devils, Loktionov has quietly gone about his business, been a responsible player on the ice and a good fit in the room.
"It's a nice team with nice guys," the Russian forward said this week. "It's easy to be here. The guys support me. It makes it easy to just go play hockey and not worry about things."
Loktionov had a goal and assist Tuesday in the Canes' 5-4 loss to the New York Islanders. He was on the ice for three of the Isles' goals, finishing minus-2 for the game, but did help spark the Canes' comeback after a horrible start – the Isles taking a 4-0 lead in the first 11 minutes of the game.
"I'm really pleased with him," Canes coach Kirk Muller said. "His attitude has been great in terms of wanting to learn and get better. He's a smart little two-way player who has been dependable without the puck and he works hard. He competes. He's earned his ice time."
Loktionov, 23, also has given the Hurricanes something to consider heading to the offseason.
Loktionov, who has a $725,000 salary this season, will be a restricted free agent. The Canes must decide whether to give him a qualifying offer or make him an unrestricted free agent.
If the Canes feel a need for more size, he's not a big guy at 5-11 and 190 pounds. He hasn't put up a lot of points: two goals, two assists in 10 games. He has been with two previous organizations – the Los Angeles Kings and Devils – and been deemed expendable by both, playing almost as many games in the American Hockey League as the NHL.
There's also the matter of the Kontinental Hockey League. Loktionov confirmed he received a lucrative offer from a KHL team after last season, but the Voskresensk native said he wants to stay in the NHL and play in the "best league in the world."
Loktionov, with a smile, said the toughest part of the March 5 trade to the Canes was "packing my bags."
"It's not so much about the hockey," he said. "Every team is much the same, the organization. It is tough learning new systems and on the ice where you have to go.
"They showed me before the first game how I had to play, but in my mind it was still the old system, you know. You have to think where to go and it was tough the first three games maybe. Right now it's good."
Muller recently shuffled his lines and has had Loktionov playing with Eric Staal and Jiri Tlusty. Staal opened on the wing but took most of the faceoffs Tuesday and saw time at center.
In the first period, Loktionov set up Jeff Skinner for a shot on the power play with a sharp circle-to-circle pass. Skinner didn't score on the shot but did moments later on a rebound.
Loktionov then scored the Canes' second goal. After a pass off the boards from Tlusty, Loktionov knocked the puck away from Isles defenseman Travis Hamonic in the neutral zone, sped down ice and beat goalie Anders Nilsson with a deft forehand from a tight angle.
"He hasn't had a lot of games with us yet but he seems to be a good young player," Staal said. "You can see the skill level he has, and he has the right instincts in areas of the ice that can be helpful."
The Canes (31-32-9), who have a road game against the Florida Panthers on Thursday, figure to have an interesting, meaningful offseason. There should be a shakeup in management, possibly another with the coaching staff. It's likely the look of the room will change, with some players no longer around.
Miss the Stanley Cup playoffs five straight years, as the Canes almost assuredly will, and those things can happen.
But Loktionov said he hopes to be a part of his new team in the years to come.
"The people here care about me, which is nice," he said.
Ryan Rupert posts four points in playoff game
Mar 26
Artem Sergeev scores shorthanded to lift Syracuse over St. John's 3-2
Mar 27
D'Agostini stops 46 in Petes playoff win
Mar 28
Cammalleri goal vs Rangers

Clendening scores twice in Rockford win
Thomas posts three-points in Hamilton victory
May 29
Loktionov goal vs Columbus

Mar 30
Loktionov Seizing Opportunity
Michael Smith
Carolina Hurricanes
When the Carolina Hurricanes acquired Andrei Loktionov in a trade deadline deal in early March, the expectation was that he would provide a boon to the Canes' power play as a half-wall playmaker.
Since then, he has certainly seized that opportunity and then some.
Loktionov's stint with the Canes began at the fourth-line center position as the coaching staff wanted to get a feel for his capabilities within the team's system.
"The coaches put me on the fourth line because they wanted to see me out there and how I fit with the system," Loktionov said. "For the first four games, the system was a little tough for me because when I was playing I was still thinking about the old system in New Jersey. It was kind of tough, but right now everything is going good."
From that first game on March 7 against the New York Rangers, he's seen his ice time swell and his role elevated. Loktionov, 23, now centers captain Eric Staal and Jiri Tlusty in the Canes' top six.
Against Columbus on March 29, Loktionov logged 19:50 of ice time, the most in his 12 games with the Canes and 10 seconds shy of his season-high of 20 minutes posted with New Jersey at Toronto in November. That marker, though, is well ahead of his season average of 12:36.
"Overall he's done a great job. Five-on-five, his play defensively, all-around, what he brings to the special teams – he's been a great addition, and he's earning it," head coach Kirk Muller said after Saturday's game. "He's come in here and played well right from the start."
Asked if he could consistently handle playing nearly 20 minutes, Loktionov smiled and said, "We'll see." But if the opportunity is presented to him, he's going to take it.
"I was excited," Loktionov said of his ice time versus Columbus. "The coach trusted me, and I played."
"He's had a history of being a kid that's known to have some good offense and skill level. It's just a matter of getting that out. He was in LA's system, a real structured team, and New Jersey, so I'm sure his NHL experience gave him an opportunity to learn the game more systematically," Muller said. "So maybe we just caught him at the right time. He's a guy that we felt, if he's given the chance, has the skill level and knows how to play the game two ways. And that's what he's bringing right now."
Loktionov has recorded six points (3g, 3a) in his last six games and is riding a three-game point streak (2g, 2a).
"The stats prove it," Muller said. "He's the half-wall guy we were looking for that could control it and make plays. He's scoring, as well. Overall he's done a great job."
Loktionov has played a crucial role in recharging the Canes' power play as of late. From March 18 through March 25, Carolina tallied at least one power-play goal in four straight games, their longest stretch of the season. Loktionov had one of the five tallies and was involved in another.
"The coaches put me on the PP, so I have to use that and have to prove to them that they were right to put me there," he said. "They put me back on that half-wall, and I feel more comfortable there. Everybody is playing for each other, and everybody opens up for each other. They make nice passes, and Harry shoots pucks at the net. That's all we need."
The last time Loktionov played the half-wall position on the power play was with Manchester of the AHL, he recalled, and his task as the playmaker is simple.
"I have to find the guys, Skinny, seam pass for the one-timer. Find Harry, he's got the good shot, you know," he explained. "I have to use them."
On Saturday against Columbus, the Voskresensk, Russia, native accepted a pass from Riley Nash, stepped up and scored on the man advantage to give the Canes a brief 2-1 lead in the third period.
"Yeah, sometimes you have to shoot too," he said with a smile.
"He's shown that he can be a power play guy, play those minutes and put up points. Can he sustain that? It will be a good challenge for him," Muller said. "He's been a great addition, and we hope he continues at that kind of pace."
Loktionov is sandwiched between fellow countryman Alexander Semin and linemate Tlusty in the locker room. Conversing with Semin and Anton Khudobin in his native tongue is nice, he says, but the adjustment to a new room goes beyond that.
"It's nice to speak in Russian, but you have to speak with the other guys too," he said. "There should be no small groups. We are all one team. We have to be all together."
A pending restricted free agent, Loktionov's future with the Canes is yet unknown. But he's certainly made an impression in his first 12 games with his new club.
"I'm just playing. I'm not worried about a contract," Loktionov said. "I have to just play and do my job."
"He's had the opportunity, and he's made the most of it," Muller said. "He's been given a chance on the power play, and he's done well there. He started out on the fourth line, and he's moved his way up. That's nice to see. When a guy gets a chance, he has to take it, and he's doing it."
Pelletier's three points leads Comets past Wild
May 31
Blain is AMI Graphics ECHL Plus Performer of the Month
Press Release
Kalamazoo Wings defenseman Jeremie Blain is the AMI Graphics ECHL Plus Performer of the Month for March after leading the league with a plus-minus rating of +13 during the month.
Blain was even or better in 10 of his 11 games in March, including posting a season-high +5 in a 6-4 win at Toledo on March 15. He was +4 in a 4-3 win at Orlando on March 3 and was a +3 in 4-1 victory over the Solar Bears on March 17.
The 24-year-old is tied for second on the K-Wings with a +16 rating and has tallied 15 points (3g-12a) in 25 games this season.
Under contract to the Vancouver Canucks of the National Hockey League, Blain has recorded 46 points (10g-36a) in 72 career ECHL games with Kalamazoo and Idaho. He has added four assists in 25 career American Hockey League games with Chicago.
In recognition of his accomplishment, AMI Graphics will present Jeremie Blain with a personalized Plus Performer of the Month Banner during an on-ice ceremony at an upcoming K-Wings' home game.